Artificial Intelligence (AI) has a significant impact on online privacy and security, as it's utilized in various ways to both enhance and compromise them. AI algorithms are used to analyze vast amounts of data to identify patterns and anomalies, which can help to improve the accuracy of detecting and preventing cyber threats.
On the other hand, AI algorithms can also be used to create deep fakes, which can manipulate audio and video to create false information, posing a risk to privacy and security. It's essential to ensure that AI technologies are used responsibly and ethically to protect the privacy and security of users in the online world.
What are artificial intelligence and its role?
AI is a branch of computer science that deals with the creation of intelligent machines that can work and think like humans. It involves developing algorithms and computer programs that can perform tasks that typically require human intelligence, such as speech recognition, decision-making, and problem-solving. AI has been making rapid advances in recent years and is now used in many different industries, from healthcare to finance.
The role of AI in these industries is to automate and streamline processes, improve efficiency, and provide faster and more accurate decision-making. Additionally, AI is also being used to enhance privacy and security online by analyzing vast amounts of data to identify patterns and anomalies, which can help to prevent cyber threats. However, it's important to ensure that AI is developed and used responsibly, with proper safeguards in place to protect the privacy and prevent potential harm still you must secure your browser while using AI a VPN might help you in that case like NordVPN for 1 Year for 36 Dollar with this software you will be surfing the internet without any privacy issue.
What is an example of artificial intelligence in data security?
Threat detection: AI algorithms are used to analyze large amounts of network data to identify any suspicious or abnormal activity, such as hacking attempts or malware infections, and alert security teams to potential threats.
Fraud detection: AI can help detect fraudulent transactions by analyzing patterns and behavior in financial data, such as unusual spending patterns or anomalies in transaction amounts.
Automated incident response: AI can be used to automate incident response procedures, such as isolating infected systems and quarantining malware, which can help to reduce the time it takes to resolve security incidents.
Vulnerability management: AI can be used to scan systems and applications for vulnerabilities, prioritize remediation based on risk, and automate patching processes, helping to keep systems secure.
Predictive analytics: AI algorithms can be used to analyze historical security data to identify trends and patterns, allowing organizations to proactively address potential security threats before they occur.
What are the benefits of artificial intelligence?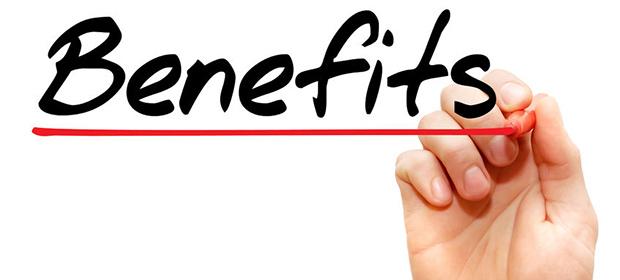 Increased efficiency: AI automates repetitive and time-consuming tasks, freeing up human workers to focus on more strategic and creative work, thereby increasing overall efficiency.
Improved accuracy: AI algorithms can analyze vast amounts of data and make decisions faster and with a higher degree of accuracy than humans, reducing the risk of errors.
Enhanced decision-making: AI provides organizations with new insights and helps them make informed decisions based on data analysis, leading to better business outcomes.
Cost savings: By automating routine tasks and improving efficiency, AI can help organizations save money on labor and other costs.
Personalized experiences: AI can provide personalized experiences for customers, such as targeted marketing and recommendation systems, leading to improved customer satisfaction and loyalty.
How is artificial intelligence helping us today?
It is playing a crucial role in our lives today by improving efficiency and accuracy in various industries such as healthcare, finance, transportation, and retail. For example, in healthcare, AI algorithms help doctors diagnose diseases more accurately, and AI-powered robots assist in surgeries. In finance, AI helps banks detect fraud and provide personalized investment advice.
In transportation, AI helps optimize routes for delivery vehicles and improve traffic management. In retail, AI helps personalize shopping experiences and improve supply chain management. Additionally, AI is being used in areas such as speech recognition, natural language processing, and computer vision, which have revolutionized human-computer interaction and made it more intuitive and user-friendly. Overall, AI has the potential to significantly improve our lives and tackle some of the world's most pressing challenges, but it's important to carefully consider the ethical and societal implications of its deployment.
What is the impact of artificial intelligence?
The impact of Artificial Intelligence (AI) is far-reaching and affects various aspects of our daily lives. AI has the potential to significantly improve efficiency, accuracy, and productivity in multiple industries such as healthcare, finance, and transportation. It has also led to the creation of new jobs and the development of innovative products and services.
However, AI also brings with it ethical concerns, such as job displacement and the potential for biased decision-making. It is important to ensure that the deployment of AI is done in a responsible and ethical manner, taking into consideration the potential consequences and the need for proper regulation. Additionally, the integration of AI into our lives also raises concerns about privacy, security, and the control of personal data. To fully realize the benefits of AI, it is crucial that we work towards a balanced approach that incorporates both the benefits and the potential negative impacts of this technology.
Conclusions
AI plays a crucial role in online privacy and security, with both benefits and risks. Secure AI systems and robust privacy regulations are needed to balance the benefits of AI with the protection of personal data. Individuals must also take responsibility for their online safety and be mindful of the information they share. Striking a balance between the benefits and risks of AI in online privacy and security is essential for maintaining the trust and enabling its continued growth.